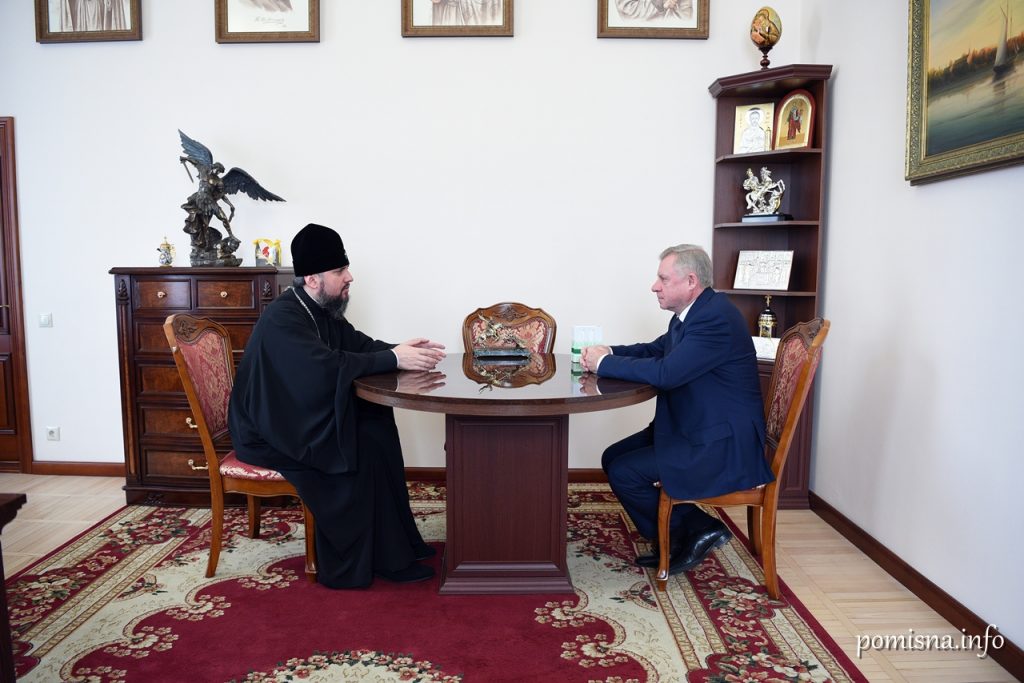 Metropolitan Epiphaniy expressed gratitude to the NBU for preserving the memory of the historical event of life of the UOC
15 April 2019
His Beatitude Metropolitan of Kyiv and All Ukraine Epiphaniy expressed gratitude to the NBU for preserving the memory of the historical event of life of the Ukrainian Orthodox Church. This was stated by Vladyka during a meeting with the Head of the National Bank of Ukraine Yakiv Smoliy on April 8, 2019.
The parties discussed the issue of commemorative coins dedicated to the receipt of the Synodal and Patriarchal Tomos of autocephaly by the Orthodox Church of Ukraine by the National bank of Ukraine.
"Thank you, Mr. Chairman, for the visit, I am glad to meet you and I would also like to thank for the commemoration of the historic event – the granting of the Synodal and Patriarchal Tomos," the Metropolitan said.
The parties also discussed the importance for Ukraine of this document, which officially approves the canonical autocephalous status of the Orthodox Church of Ukraine as one of the 15 Local Orthodox Churches.
"On March 25 this year, the National Bank has put into circulation three commemorative coins on the occasion of the granting of Tomos on autocephaly of the Orthodox Church of Ukraine. They were coined by the Ukrainian Mint. They continue the series "Spiritual Treasures of Ukraine", which was founded in 1996 and marks the events and figures that are significant for Ukrainian society. Now this series has already 25 commemorative coins ", – said Yakiv Smoliy. He added that in summer the National Bank intends to mint another such commemorative coin – silver, decorated with gold and it weighs 500 grams.
During the meeting, Mr. Smoliy told Metropolitan Epiphaniy about the work of the NBU and presented the commemorative coin "St. Andrew's Church".
The Bishop also handed a Diploma with honors and gift books to Yakiv Smoliy.
Press service of the Kyiv Metropolitanate
Ukrainian Orthodox Church (PCU)