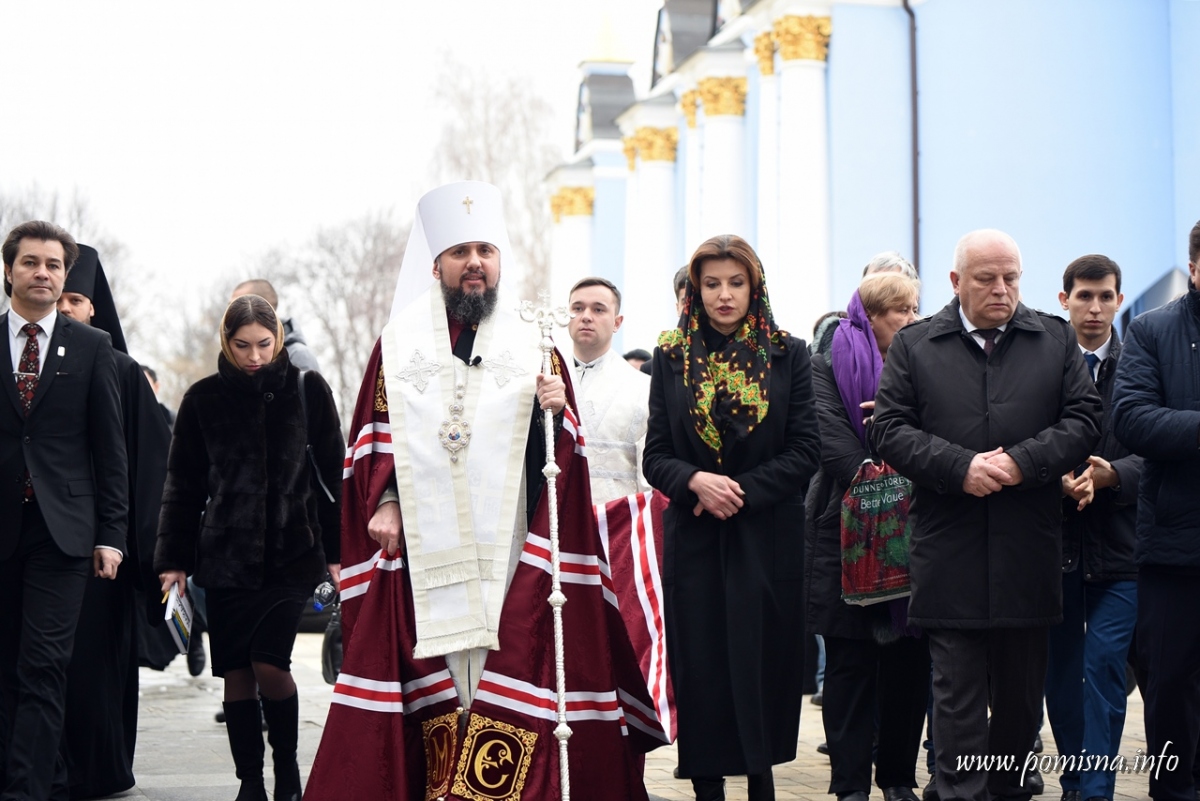 Commemorative Divine Services For the Peace of the Souls of the Shot Peaceful Participants of the Revolution of Virtue
26 March 2019
February 20, 2019 – the fifth anniversary of the Heroes of the Heavenly Hundred.
At St. Michael's Golden-Domed Cathedral there were commemorative Divine Services for the peace of the souls of the shot peaceful participants of the Revolution of Virtue. It was St.Michael's Golden-domed  monastery that became a refuge for the beaten up peaceful protesters on November 30, 2013 and in the difficult days of February 2014. In the churches of the monastery a respite place, warehouses and even a surgery for the needs of the Maydan protesters were organized.
Panakhyda was headed by the Primate of the Ukrainian Orthodox Church Metropolitan of Kyiv and All Ukraine Epiphaniy in the co-ordination of the Metropolitan of Vinnytsia and Bar Simeon, Metropolitan of Cherkasy and Chihyryn  Ioan, the governor of the monastery Archbishop of Vyshgorod, Agapit, rector of the Kyiv Orthodox Theological Academy Archpr. Oleksandr Trofymliuk, brethren of the monastery and the present clergy.
The wife of the President of Ukraine, Mrs. Maryna Poroshenko and her son, members of the families of the heroes of the Heavenly Hundred, Minister of Economic Development and Trade of Ukraine Stepan Kubiv, Minister of Youth and Sport Ihor Zhdanov, Minister of Culture of Ukraine Yevhen Nyschuk, Minister of Regional Development, Construction and Housing and Communal Services of Ukraine Hennadiy Zubko, other officials, the public, activists of the Revolution of Dignity, servicemen, chaplains, parishioners prayed at the worship.
On this day, Metropolitan of Kyiv and All Ukraine Epiphaniy addressed to all those present in the cathedral with the words of the sermon.
The Primate of the Ukrainian Orthodox Church, together with Mrs. Marina Poroshenko, lit a memorial lamps near the memorial stand with the images of the "Heavenly Hundred" fighters located in the Varvarinsky parish of St. Michael's Cathedral.
After that, all together prayed at the memorial plaque "Heavenly Hundred Hundred Monster Angels", which is located on the walls of the monastery.